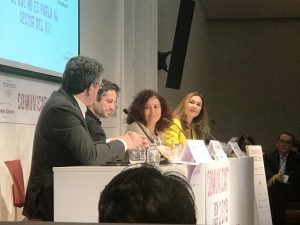 LaFou Celler attended the first edition of the Catalan Conference on Wine Communication (Comuvicat 2019).   Ramon Roqueta, LaFou's owner and oenologist, took part in a round table on "What we don't talk about in the wine sector". During this talk, Ramon Roqueta put forward the need for a common and collective project for Catalan wine, one which should be promoted in communication media in a prestigious and illustrious way. LaFou's oenologist also stressed the vital role soil plays in winemaking and he spoke of the need to give it equal importance to terroir and climate in terms of sustainability.
Moreover, LaFou Els Amelers was one of the leading wines in a session called "Wine tasting with a story", which was led by sommeliers Ferran Centelles and David Seijas.
Comuvicat became a meeting point for the key players in communication on Catalan wine: journalists, bloggers, sommeliers, communication managers, representatives from Catalan appellations of origin (DOs), winemakers, restaurateurs, distributors and event managers amongst others.