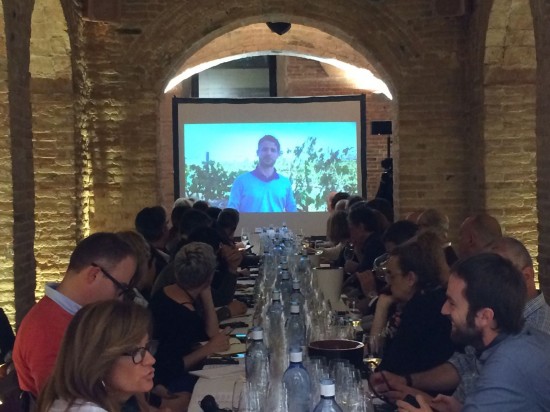 In Barcelona on November 24th, the Terra Alta Appellation of Origin organised a very special event to promote Grenaches du Monde, an international competition in honour of the Grenache variety from around the world. This event will be held in the Terra Alta region next year.  Frank Smulders a Dutch Master of Wine led a master tasting session. He is a fan of Catalan Grenache, and especially of White Grenache from the Terra Alta region.
During the tasting session, Grenache from the 4 Grenache appellations of origin (DO) par excellence in Catalonia were sampled: DO Empordà, DO Montsant, DOQ Priorat and DO Terra Alta. There was even a Grenache variety dating back to the beginning of the century and a White Grenache from the year 1996.
The tasting session opened with a White Grenache from the host appellation of origin – DO Terra Alta – with a selection of wines from 7 of the wineries within this region in which White Grenache is its emblematic variety. It accounts for a very high concentration (33%) of Grenache produced around the entire world, and it accounts for up to 75% of Grenache production in Spain and up to 90% in Catalonia. The first of the wines tasted at this event was LaFou Els Amelers 2013 (100% white Grenache) from the LaFou winery.